Ojibiikaan was founded in 2018 to address gaps in Toronto related to Indigenous food sovereignty, such as food and nutrition education, sustainable food systems and practices, and traditional ecological knowledge.
Ojibiikaan provides opportunities to engage with the land across the City to Toronto and the outer city.  We connect with the land through activities like medicine walks, snowshoeing, sugarbush tapping, gardening and traditional cooking. Our programming is always centred on ceremony, offerings, songs and storytelling.  We take a holistic approach that centres and honors the land, have knowledge of protocols, ceremonies and ways of relating to the land and are an entirely Indigenous team that has understanding of the historical, cultural and social significance to the land.
We vision a thriving, sustainable and culturally grounded community supported by:
Indigenous Food Sovereignty
Language and cultural revitalization
Advocacy for urban Indigenous visibility
We value community, culture, sustainability, transparency, respect, youth empowerment, intergenerational learning, food sovereignty, and seven generations teachings.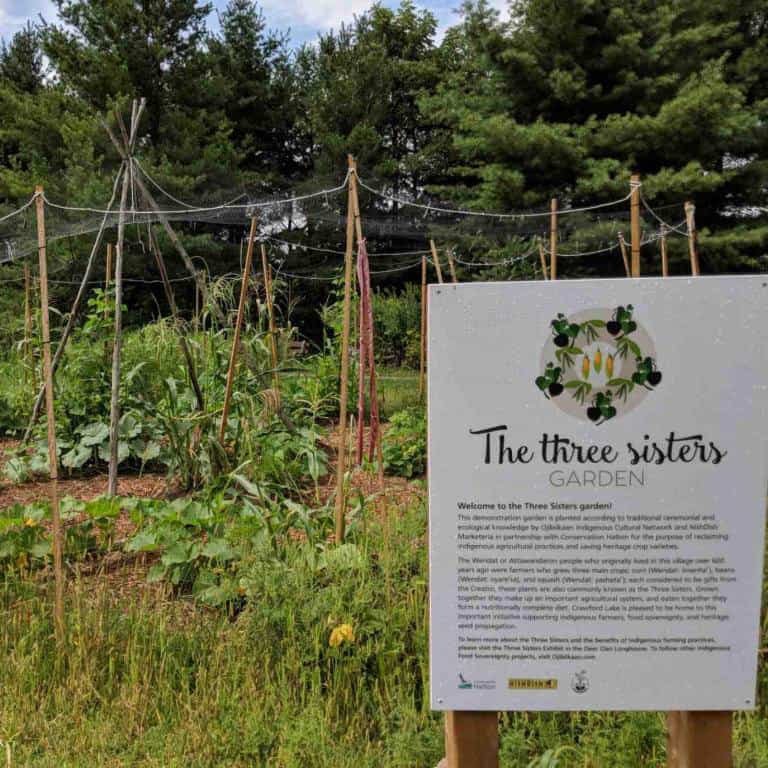 About the Indigenous Food Sovereignty movement
The term food sovereignty was coined in 1996 by the members of the Via Campesina (peasants) movement, started in Central and South America. The movement was sparked from the need for farmers and growers producing the food to have control and voice in regards to policy making within the food system. The movement strongly focused on the right of people to have access to foods that are culturally appropriate, and that are produced in a ethical and sustainable way. The most important aspect of the food sovereignty movement is that everyone has a right to define their own food and agriculture systems.
The ideas and values of the food sovereignty movement quickly spread across Turtle Island, gaining a strong momentum in the United States and moving to Canada shortly after. Indigenous food sovereignty is about our communities having access to our land, ceremony and traditional foods that nourish our heart, mind and body. The relationship with land and our foods is sacred.  We have a responsibility, as individuals and communities, to honour and nurture our relationships with the land, plants and animals that provide us our food.
Indigenous Food Sovereignty in Toronto.
Ojibiikaan provides tools and resources needed to grow and harvest our traditional foods in an urban setting in the City of Toronto. Our gardens are centred on traditional growing and harvesting techniques rooted in ceremony, storytelling and thanking mother earth for the space she provides to us to grow and learn together.  Our approach to gardening is to first understand the space in which we will start gardening. Listening to and knowing the space involves observing the critters and animals, lighting patterns, looking at the soil structure and getting to know the water. We make sure that when planning the garden space that we look at accessibility and how people  would access the space. We provide a space the allows our participants to create a relationship with the growing space that is self-determining.
Some traditional foods/medicines we are growing
Three sister crops: squash, beans, corn
Sunchokes
Sage
Tobacco
Some traditional foods we are revitalizing
Moose Meat stew
Three sisters stew
Wild blueberry pudding
Benefits to an Indigenous food sovereignty approach
The relationship is deeper than just consuming food to live
We eat the foods that we have consumed for centuries
It's rooted in ceremony, storytelling and honoring our land, plants, and animals
It will help heal our communities and our mother earth
Indigenous food sovereignty supports our reconnection to our relationship with the land.  We can grow own food and contribute to the revitalizing of Indigenous growing in a urban setting
Ethan Dankert-Lannigan
Mobile Cultural Coordinator
Ethan Dankert-Lannigan is from the Big River Metis Community with a family lineage tied to the Red River Metis Nation. They carry a Social Service Work diploma from George Brown College.
Ethan was raised in Guelph and spent their life participating in ceremony, learning plant medicines and helping when ever they could in community. They are a passionate Two-Spirit activist, artist and Jigger. In addition to their cultural work, they are committed to increasing safe spaces for Two-Spirit and Queer Indigenous families by reclaiming roles in community.
 Chris MERKEL
Mobile Cultural Coordinator
Chris Merkel is from the Tahltan Nation of northern British Columbia through his father's mother's family line. Chris grew up in Port Sydney, ON (about 2 hours north of Toronto).
Chris' passion for his work lies in people. He has worked with all ages, but has mostly spent his time working with youth through outdoor adventure and leadership workshops. His most recent role involved flying to remote communities around Canada to facilitate social justice, leadership workshops with indigenous students.
When he's not working, Chris can be found outdoors or with loved ones. He particularly enjoys boarding, canoeing, road trips, movies, and music.
He is excited to bring his passions and experience to this team and the Ojibiikaan community.
 CHEYANNE  Valencia-Hinds
Mobile Cultural Coordinator
Cheyanne Valencia-Hinds is Cree from the Attawapiskat First Nation. She is of the Bear Clan. She was born and raised in Mississauga, Ontario. After high school, she attended McMaster University and completed a Bachelor of Science with a minor in Mental Health Studies. Cheyanne is passionate about gardening and food sovereignty, learning about food and plant medicines, being a steward of the land, approaching life and wellness holistically, and living in a way that nourishes the body, mind and spirit. She loves being out on the land, drinking tea and reading.
Chef Johl Whiteduck Ringuette Board President
Chef Johl Whiteduck Ringuette is Anishnawbe and Algonquin. He was born in North Bay, Ontario and his grandmother is from Nippissing First Nations. His clan is Mink clan. He was raised North of North Bay in the woods; his father was a self-employed well-driller, a hunter and fisher. His mother was a home-maker, raised 6 children and assisted the business. Johl was raised on wild game, fishing and seasonal berry-picks and cooking over the fire.
Chef Johl is the sole proprietor of NishDish Marketeria and Catering, a First Nations owned and operated catering business specializing in Anishnawbe cuisine since 2005. NishDish is a small business built on serving and promoting traditional Anishnawbe /Ojibwe food and Indigenous-made products. In April 2017 NishDish Marketeria and Catering broke restaurant history in the GTA and set a new record as the most attended grand opening for its public venue on Bloor Street West, as documented by CBC.
As one of Tkaronto's leading First Nations food sovereigntists, Chef Johl's journey has led him to identifying, sourcing, relearning and reclaiming what the traditional Anishnawbe diet is. Given the staggering detrimental impacts of the oppression of the residential school legacy, and multigenerational trauma, the vision and journey of First Nations food sovereignty will also take many generations. Johl is equipped with the ineffable gift he received from his medicine teacher Mark Thompson, to ignite community healing by bringing back Anishnawbe food. Chef Johls' unwavering commitment to his vision has broadened his work beyond the Marketeria. His is high in demand as a public speaker on topics including food sovereignty, social entrepreneurship, motivational speaking, "ceremony and culture is the key", artifacts and land repatriation, and has taught countless food demos and traditional food skills workshops.
His creation in 2017 of a curriculum for his own 20-week Ojibiikaan Indigenous Culinary Arts Program, a ceremonial in-depth land and food-based program, led to some of the first traditionally planted Three Sisters gardens in the GTA. The gifts to Chef Johl of centuries-old ancestral seeds started the ongoing development of an extensive Indigenous seed bank. The expansion of NishDish's Indigenous food gardens around the city laid the groundwork for the birth of a brand new organization that Chef Johl founded in 2018, called Ojibiikaan Indigenous Cultural Network. He is the founding Board President of the first and only not-for-profit dedicated to Indigenous Food Sovereignty in the GTA, which now has a team of First Nations staff. The agency's values are preservation of Indigenous language, Culture, and Food Sovereignty. Chef Johl's vision is to inspire the return and/or collaboration of gifting ancestral lands back to the community for the purposes of growing Indigenous teaching gardens. The Three Sisters garden established in 2018 at Crawford Lake Sanctuary is an example of this vision coming to fruition.
In 2012 Chef Johl co-founded RUN, Red Urban Nation, a grassroots project that envisioned a focused community district in Toronto, in the area formerly comprising Ward 19. The District will reclaim the area encompassing Christie Pits Park, starting from the Davenport escarpment, where our traditional foot path was for thousands of years and what remains a green corridor, and down along the route of Garrison Creek (buried beneath Shaw St.), one of our historical travel routes to Lake Ontario. Due to an untimely and irreparable accident from a TTC bus striking him on his bike in 2013, Chef Johl was unable to continue his life's work in any capacity, or his community endeavours until 2017 when his friends and community supported him to open NishDish's storefront location. He is still in recovery from the injuries caused by this accident.
In December 2017 Chef Johl founded TIBA, the Toronto Indigenous Business Association, renewing the pursuit of an Anishnawbe district for Toronto and building a strong coalition of First Nations social entrepreneurs and business owners. TIBA is operating on our unique Anishnawbe clan system that was adapted for present-day use by Elder Jim Dumont. TIBA is growing the vision of a whole Indigenous community, not only a business district.
Along with the medicine garden in Christie Pits, and the container rooftop garden at NCFST, Chef Johl has launched the first Indigenous Harvesters and Artisans Market at the Bickford Centre in 2018, with multiple parternships, where he curated a series of murals painted by Indigenous artists. In celebration of bringing a larger Indigenous representation to the Christie Pits Park area.
Chef Johl received Businessman of the Year award in 2013. He is also a member of the Toronto Food Policy Council.
Michael Slattery
Board Vice-President
Michael Slattery practices Aboriginal law at a union-side labour law firm in Toronto.  He has worked in East Africa on rural agroforestry projects and in West Africa in microfinance supporting small businesses and farmers.
Richelle Kantor
Board Secretary
Richelle's mother's lineage is Thunderbird Clan of the Red River Métis Nation and her father's lineage is Akaitcho Dene from Yellowknives Dene First Nation, NWT. Richelle is a Sun Dancer with the Spruce Woods Sun Dance Lodge (Manitoba) and alumna to the University of Winnipeg with a B.A. in Indigenous Studies and Conflict Resolution Studies. She is an active leader envisioning cultural resurgence by way of urban Indigenous land and food sovereignty revitalization projects in the GTA. Richelle is a Trainer at the Ontario Federation of Indigenous Friendship Centres and enjoys participating in ceremonies, drum groups, creating ribbon skirts, preparing traditional medicines, fishing and biking.
Amy Lickers
Board Secretary
From the Six Nations of the Grand River, Amy has worked her entire career in First Nation community development planning, policy, and governance. With a background in architecture and First Nation community planning, she approaches her work through a lived space experience.
Amy has been actively engaged as a board member in establishing governance processes and strategic plans for a number of Indigenous organizations. She has a personal interest in sustainability and indigenous food systems. She worked closely with the Six Nations Our Sustenance Program, which is a community based program that encourages food security through a community garden, market, greenhouse and good food box program.
As a mother, Amy is driven by the vision of safe and healthy communities for seven generations. She is passionate about supporting Indigenous communities in establishing the plans and processes that will lead to healthy and safe communities, rooted in culture, for the wellbeing of their citizens and future generations.